Licensed Nail Technician Samantha "Sam" Pendleton has become a fast favorite in our nail department. She recently won our nail art contest in October, and in that same month she was featured in NailPro Magazine! Sam has creative mind, which shows in her nail art, but her sweet demeanor keeps clients coming back. Read on to learn more about Sam.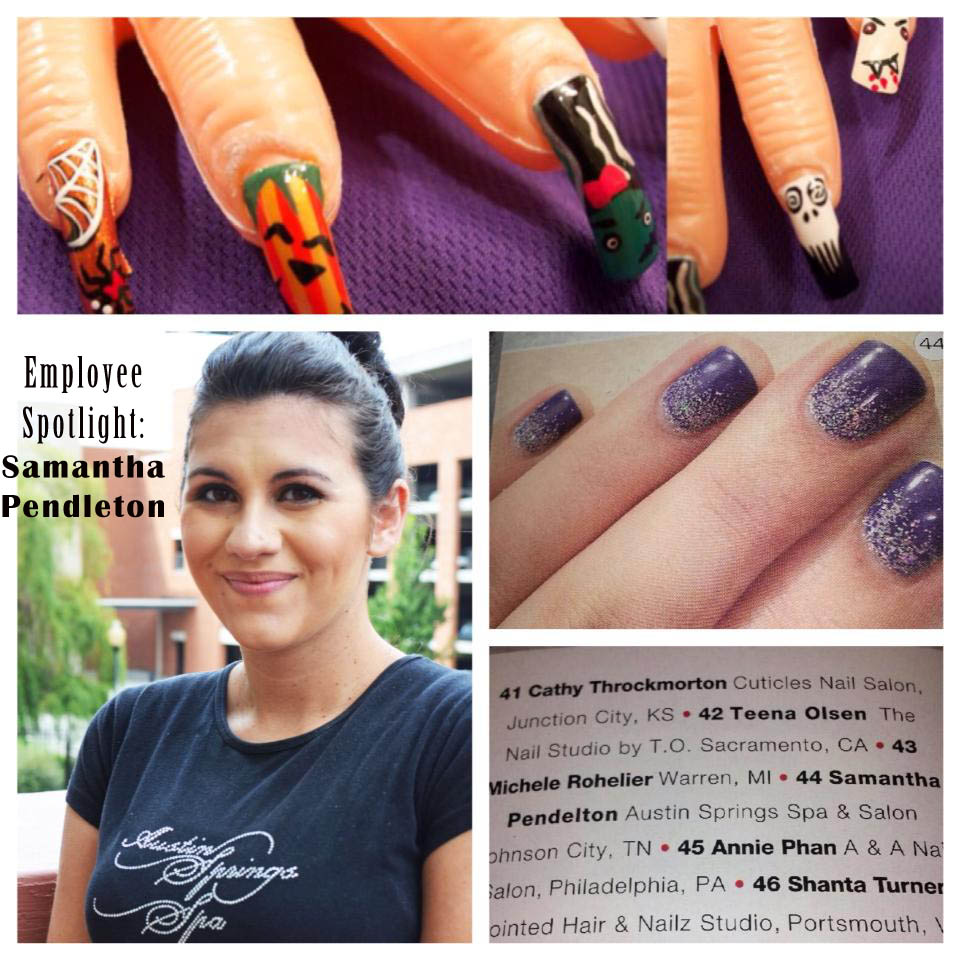 Q. What led you to a career in nails? A. I was led to become a nail technician mostly from the passion I had for the appearance of my own nails. I religiously kept my fingers and toes polished the same color and would repolish them at least biweekly. My future mother-in-law is a nail technician and noticed my nails. She persuaded me to attend nail school, and I have enjoyed every second of it.
Q. What are some of your goals in working in this field? A. My goals in this field are to learn as much as I can about the current services offered and to be as proficient at these services as possible. It is very important to be educated on the services you provide. Knowing why and how to perform services correctly is advantageous to both the service provider and the client. I would also like to improve on my nail art techniques.
Q. What is your favorite service to perform and why? A. My favorite service to provide is the gel manicure. I feel that is an excellent service for all types of clients. It strengthens the clients nails, while giving them a manicure that lasts for an extended period of time. It is also a great base for doing many types of nail art.
Q. What have you learned from your clients? A. I have learned from my clients that attention to detail is always important. You should always be as picky with your clients nails as you would be with your own. You should always go the extra mile to make sure their manicure is as close to perfect as you can possibly make it. Clients notice when you take the time to address every detail of their manicure.
Q. Are there any new nail trends you are excited about? A. I love that there are no boundaries on what is acceptable to wear on your nails. We live in a time when creativity in manicures is the current trend. It's a great time to be a nail technician. No matter what age people are, there is no right or wrong way to polish your nails.
Q. Beyond your work at Austin Springs Spa, are there any special hobbies you have? What do you do to have fun? A. Aside from nails, food is my passion. During my time away from work I am either cooking or exploring new restaurants in the area. I love to bake. It is such a precise art. Making a perfectly executed dessert is priceless.
Q. Relaxation is a major factor in a happy, healthy life. How do you relax? A. Spending time with my fiance and my sweet puppy is my favorite way to relax. I love football, namely the Minnesota Vikings and the Virginia Tech Hokies. I can't imagine anything better than enjoying some good food and watching football with the ones I love.
Are you interested in booking with Sam? Please call us at 423-979-6403 to schedule, and she looks forward to working with you!