Licensed Massage Therapist Sandy Freschi is one of our most experienced staff members, and a willing teacher, when the rest of of our spa family has questions about massage. Her training is varied, but most importantly, her obvious care for our clients and spa team is something to be admired. Read all about Sandy below!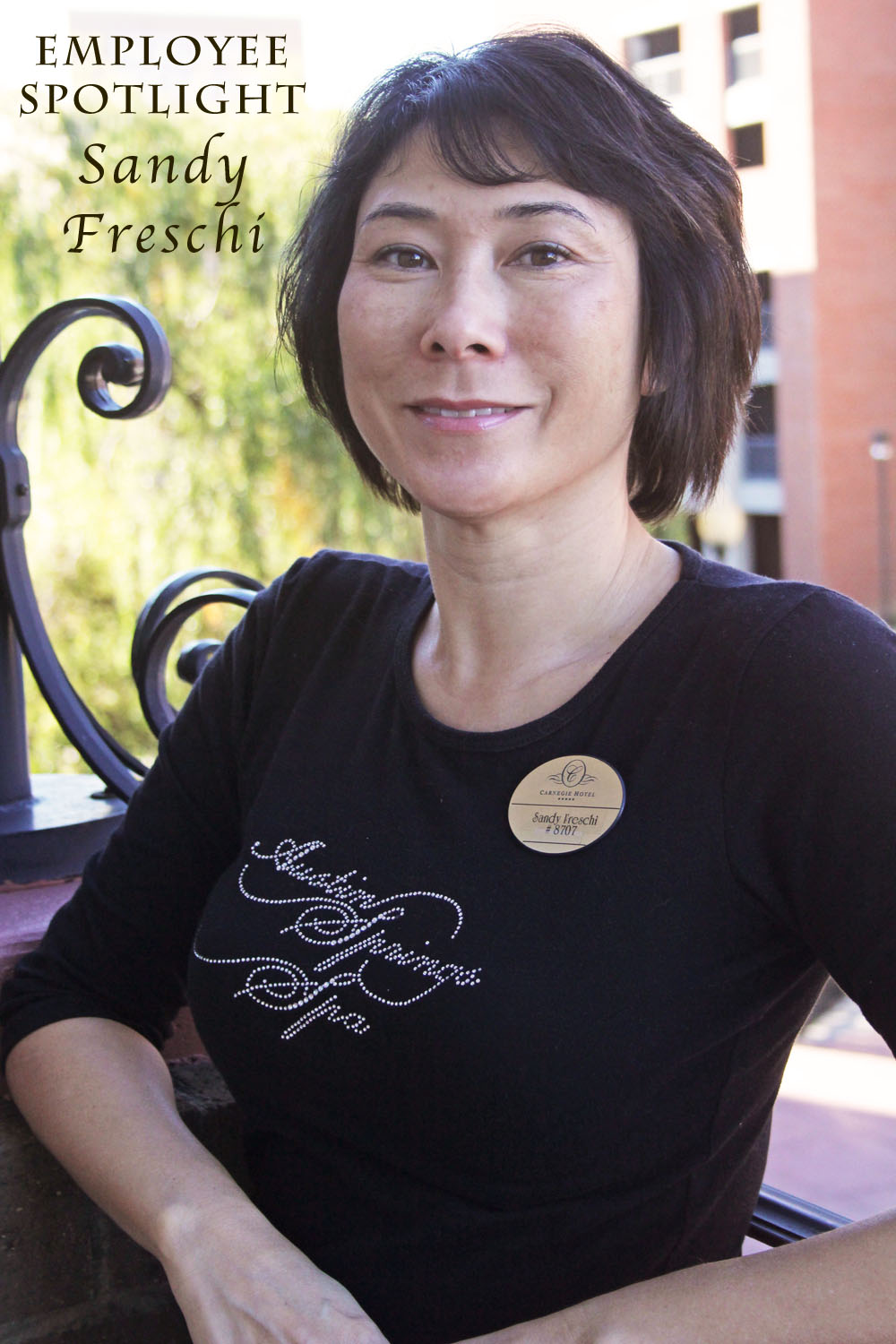 Q. How long have you worked at Austin Springs? What was your education before joining us at the spa? A. I've been working here since January 2011. I graduated from Connecticut Center for Massage Therapy in 1992. Over the years, I accumulated a number of advanced certifications to include neuromuscular therapy, orthopedic massage, and Quantum-Touch energy healing.
Q.  What led you to a career in this field?  A. In 1991 I decided to resign my commission in the United States Navy and was looking for a different career path.  Initially, I thought I would go into Clinical Psychology, since I was already working in the addictions counseling field. But then I had my first massage, and after floating for three days, I threw all my graduate school applications in the mail and applied for massage school.
Q. What are some of your goals in working in this field?  A. I have realized most of my goals over the course of my career.  I've owned and sold a successful massage practice. I taught massage therapy and energy healing at both the beginning and advanced levels. The only thing I hadn't done until now is to work in a spa setting with a team of awesome people.  So, working at Austin Springs Spa has helped me achieve the best goal ever.
Q. What is your favorite service to perform and why?  A. I love doing Quantum-Touch energy healing. I love doing it as strictly energy healing, and I love integrating it into massage. It is one of the most powerful healing tools I've ever used. I've witnessed clients' bones move themselves back into alignment, people having emotional releases which healed a lifetime of pain, and cancer patients getting through chemotherapy with decreased side effects. Quantum-Touch is most known for its ability to straighten spines, but it's the power of amplified life-force energy combined with love that accelerates whole body healing in all kinds of ways.  I love doing it because each session puts me into profound touch with the miracle of the body's ability to heal itself.
Q. What have you learned from your clients?  A. Over the years my clients have taught me how to facilitate their healing on many levels. It's never just about the touch. It's the connection and intuitive understanding (which they have helped me develop) that helps most people open themselves up to deep relaxation and healing.
Q. Are there misconceptions about certain services you perform that you would like to address? A. There is a belief out there that you have to apply pressure from the outside (like deep massage) to relieve a person's physical pain.  I believe that the most powerful pain relief comes when the client is able to go inside and open up to their innate ability to relax and heal themselves. Because Quantum-Touch works from the inside out, people who are used to the "outside-in" healing paradigm don't quite get how powerful it is … until they try it.
Q. Beyond your work at Austin Springs Spa, are there any special hobbies you have? What do you do to have fun? A. I am a budding gourd artisan. I accidentally grew gourds in my garden last year, lots of them. And I've been learning how to make them into decorative bowls and birdhouses.
Q. Relaxation is a major factor in a happy, healthy life. What do you do to relax?  A. Regular massage is essential when you're a massage therapist, so I get a massage regularly. I also walk, do Zumba, spend time with my family, and maintain a daily spiritual practice to keep my life and perspective in balance.
Wow, isn't her background so impressive? We certainly think so! If you're interested in booking with Sandy, call us at 423-979-6403. She looks forwarding to seeing you soon.